BOSE MUSIC AMPLIFIER
In Stock
270.000 KD
You can track the price of this productTrack Price
3-Year adawliah Warranty
30-Day Money-Back Guarantee
YOUR MUSIC, AMPLIFIED.
The Bose Music Amplifier connects multiple sources to bring your home to life. Part of our smart family of products, it powers new or existing speakers and streams music over Wi-Fi® from your favorite services.
CONNECT IT YOUR WAY
Stream music via Wi-Fi without interruption or use Bluetooth® to pair devices within range. Vinyl* and CD players can also join your smart system by connecting to analog and optical inputs.
Easy on the eyes
The Bose Music Amp is sleek and elegant with a tempered-glass top that complements any décor. Designed so two amps can easily be placed side-by-side or stacked, and comes with a bracket for rack mounting — your choice.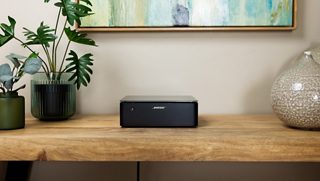 ENDLESS POSSIBILITIES
Connect everything from speakers, to TVs and CD players, then use the Bose Music app to adjust audio or control music.
BOSE MUSIC AMPLIFIER
SKU: BOSE MUSIC AMPLIFIER
0 - Reviews
270.000 KD
You can track the price of this productTrack Price